Genicanthus Lamarck - Lamarcks angelfish
The Reef Ready Angelfish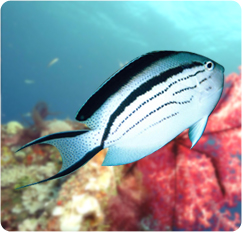 The Lamarck's angelfish (Genicanthus Lamarck) is not the showiest angelfish, but what it may lack in flare, it more than makes up for in general hardiness and reef appropriateness. Sometimes called the freckletail angelfish, this Indo-West Pacific fish is a member of the genus Genicanthus, making it one of the best angelfishes for the reef aquarium. Otherwise known as the swallowtail angelfishes, Genicanthus angelfishes are reef compatible, peaceful fishes that generally remain fairly small and make fantastic aquarium fishes, especially when kept as pairs.
The Lamarck's angelfish, like all angelfishes in the genus, displays stunning sexual dimorphism, which means that the male and female are clearly recognizable based on appearance. This makes keeping a pair in a suitably large aquarium (125 gallons+) a real treat. In most aquarists' minds, the beauty of a pair of these fishes swimming together more than makes up for their relatively high price, although, in the case of the Lamarck's, both the male and female are stunning fish to keep on their own.
In the wild, the Lamarck's angelfish ranges from the Indo-Malayan region eastward to Vanuatu and north to southern Japan. It can be found as far south as the Great Barrier Reef. It inhabits shallow reef crests and deep reefs adjacent to steep slopes.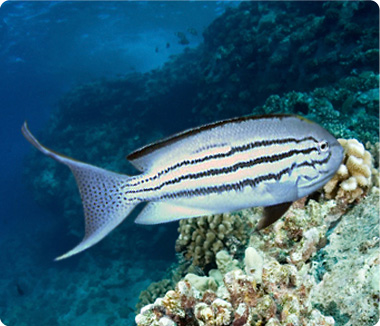 Lamark's angelfishes are protogynous hermaphrodites that form harems of three to seven individuals in the wild. As protogynous hermaphrodites, this fish starts its life as a female but has the ability to become a male if there is an absence of a dominant male in the group. The transformation of the dominant female into a male generally takes about a month and is believed to be irreversible (although, anecdotally, a Lamark's Angelfish in captivity once went from the male phase to the female phase).
In short, the Lamark's angelfish is an attractive, hardy angelfish and is amongst the most well-suited angelfish for a marine aquarium.
Published 15 September 2008. © Blue Zoo Aquatics