Cirrhilabrus naokoae - Naokae's Fairy Wrasse
A Beautiful Wrasse First Described in 2009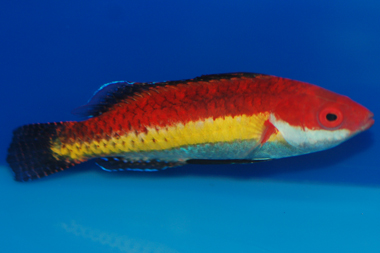 Cirrhilabrus naokoae is a reef-associated, tropical wrasse known to inhabit the eastern Indian Ocean. This fish was first described by Jack Randall and Dr. Hiroyuki Tanaka in January 2009 in Aqua; The International Journal of Ichthyology, and is named for Tanaka's wife. Three males that were collected for the aquarium trade near Medan on the northwest coast of Sumatra were used for the description.
Tanaka believes the species in found in water that is 10-20 meters deep, but this has yet to be confirmed. According to Randall and Tanaka, C. naokoae is related to C. joanallenae, C. morrisoni, and C. rubriventralis. The males of all four species share an elevated dorsal fin, large pelvic fins, and a single row of cheek scales. There are also some similarities in overall coloring, especially when compared to C. joanallenae. According to Tanaka, C. naokoae is the 46th species within the genus.
Tanaka reports successfully keeping two male specimens in an aquarium, and that the species is, at least in his experience, fairly peaceful. "It is not coward," he continues, "[it is] a very active fish and rarely [hides in] crevices." While Tanaka says he is still somewhat uncertain of the coloration when flashing, he points out that the tail does turn a brilliant blue.
Tanaka recommends keeping C. naokoae with other fishes from the genus Cirrhilabrus. It should do well with other fishes in a peaceful community reef or fish-only tank. The female form is still undescribed, but Tanaka suggests it probably lacks the yellow streak and has no high dorsal fin. It feeds readily on a variety of common foods and seems to be a generally hardy fish.
According to Tanaka, C. naokoae will grow to approximately 7.5 cm (about three inches) or more. It should be kept in an aquarium no smaller than 30 gallons. Most wrasses are known jumpers, and the wrasse ready aquarium should have a tight-fitting lid or eggcrate covering.