Elacatinus oceanops - Neon Goby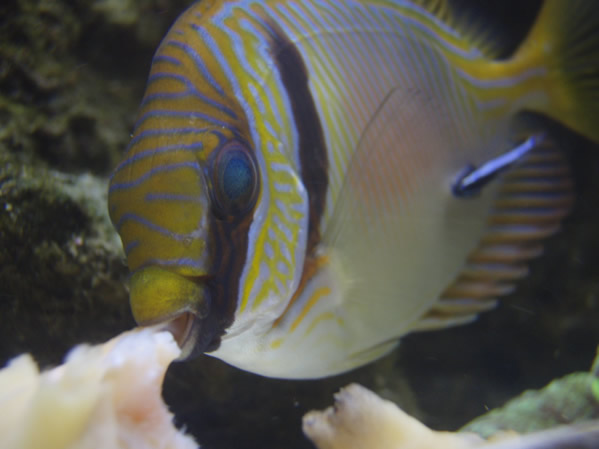 The neon goby (Elacatinus oceanops formerly Gobiosoma oceanops) is a fantastic cleaner fish that is readily bred in captivity, easy to keep and fascinating to observe. Because the neon goby reaches only about five centimeter in length in the aquarium, it is an ideal fish for small systems, but because it can also be kept in groups, several (up to seven or more) neon gobies are wholly appropriate in a large aquarium. This is such a great fish, that it truly is hard to imagine a tank without one or more.
Captive Bred Neon Gobies
This small reef-associated fish hails from the western Atlantic and can be found from Central America north to South Florida and the Texas Gulf coast. Because it is a relatively easy to fish to breed in captivity (it was one of the first saltwater fishes to be bred in captivity in the mid-1970s), it is frequently available as a captive-bred specimen. In addition to the fact that purchasing a captive bred animal is the ultimate when it comes to sustainability, captive bred neon gobies make an already hardy fish nearly bulletproof.
Neon Goby Husbandry
The neon goby is very easy to keep in a tropical saltwater aquarium, and even an absolute beginner can have success with this animal. This is not the case with any other cleaner fish, but more on that in a minute. Many aquarists recommend adding one neon goby per 25 gallons, and the fish should be acclimated like any other fish. Once acclimated, expect to see the neon goby advertising its cleaning services at a "cleaner station"—usually an outcrop of live rock or, occasionally, a coral head.
A huge advantage of the neon goby over most other cleaner fishes is that the neon goby is not an obligate cleaner (it doesn't rely on cleaning parasites for optimal health). As such, the neon goby will do well in an aquarium without any parasites at all. The neon goby will supplement its diet of ectoparasites, dead skin and other detritus it cleans from the skin of fishes with almost any commercially prepared food including flakes, pellets and frozen foods. Just be sure the food is small enough that the neon goby can actually eat it.
Neon Goby Compatibility
In terms of compatibility, neon gobies will often coexist with some very unlikely tankmates. Many predatory fishes will leave the neon goby alone and even accept being cleaned by the small fish. Neon gobies are also 100% reef compatible. The only real threat posed to a neon goby will be any predatory invertebrates such as large crabs.
The Verdict
As stated at the outset, it really is hard to think of a saltwater tank where a neon goby (or several) was not an appropriate addition. These fishes are great-looking, fascinating to watch, and they provide an invaluable service in the aquarium. Best of all, they are often available as captive bred specimens, making them supremely sustainable and about as hardy as any fish commonly kept in a saltwater aquarium.